Amidst the pandemic with social distancing becoming the new normal, more and more people are succumbing to stress, depression, and feeling lonely and bored due to lack of interaction and activities. A segment that is specifically vulnerable to this is old and elderly.
This section which was used to interacting, indulging in leisure activities, socializing post-retirement, find themselves victims of this pandemic. The novel COVID-19 has forced them to stay in confinement due to high vulnerability with little to no socialization making them more lonely. Major issues are depression, loneliness, suicidal tendency, lack of energy, mental health, anxiety
Solutions with XR
The most effective and feasible solution to the stated problem is to create an all-in-one simulation experience for the old and elderly, using Virtual Reality. According to research, elderly people spend their time majorly engaged in activities like socializing and discussing various topics, watching movies, gardening, playing indoor and outdoor games, and traveling. This experience can consist of different activity categories with multiple virtual rooms which the member can enter as per their liking. In each room they can interact with the other members present just as they would in reality.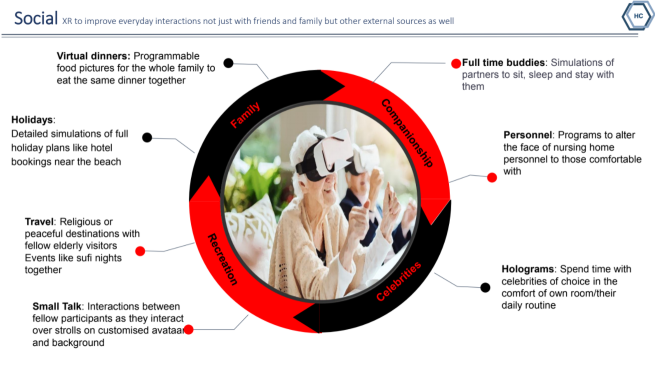 Feature rich XR experience:
XR-Let's Meet
It gives an opportunity to experience 3-dimensional real-time interaction between elders and their friends, families, therapists, and even for medical consultation hence reducing their lonely times and in turn providing a more fulfilling experience. The members can access an open forum with multiple discussions going on varied topics like politics, gardening, storytelling, art, literature, and the members could enter into and get visual and audio of participants in the room. The member could raise hands, voice opinions, and socialize in the activity. A concept is similar to Clubhouse.
XR-Down the memory lane
XR can be put to use to introduce a reminiscence therapy that can take the elderly on a walk down memory lane allowing them to relive the golden moments from their past.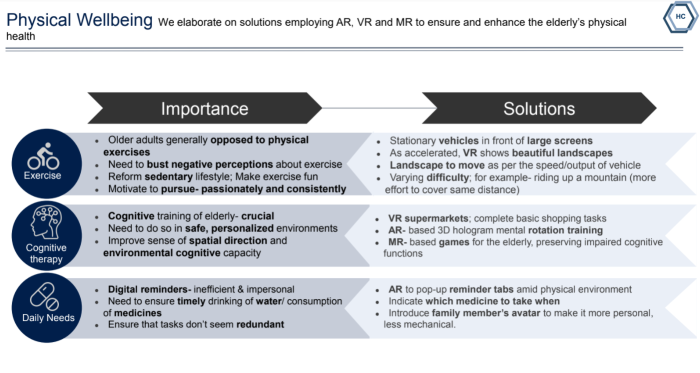 XR-the magic lamp
All through our lives, we have a series of desires we wish to fulfill. Most elderlies have a long bucket list of such unfulfilled experiences. XR can be put to use to help them undergo such breathtaking experiences like scuba-diving or bungee jumping while sitting in the comfort of their houses. Also, simulation of sports like badminton would help them be active and healthy, a group of cards enthusiasts could play together.
XR-Zen
What is this life full of care, when we have no time to stand and stare? This section would allow members to take a stroll in the garden, watch sunsets with friends and share personal stories. XR can also be extensively put to use to help the elderly practice deep meditation in their own Zen garden where they can feel connected to their soul and soothe their minds.
XR-Explore
As per research, the elderly wish to travel and explore various places around the world. The VR experience will give a 360-degree experience. The cohort of friends could enjoy the train experience, drop off at the destination and take the view. Performing activities together would be an enriching and wholesome experience.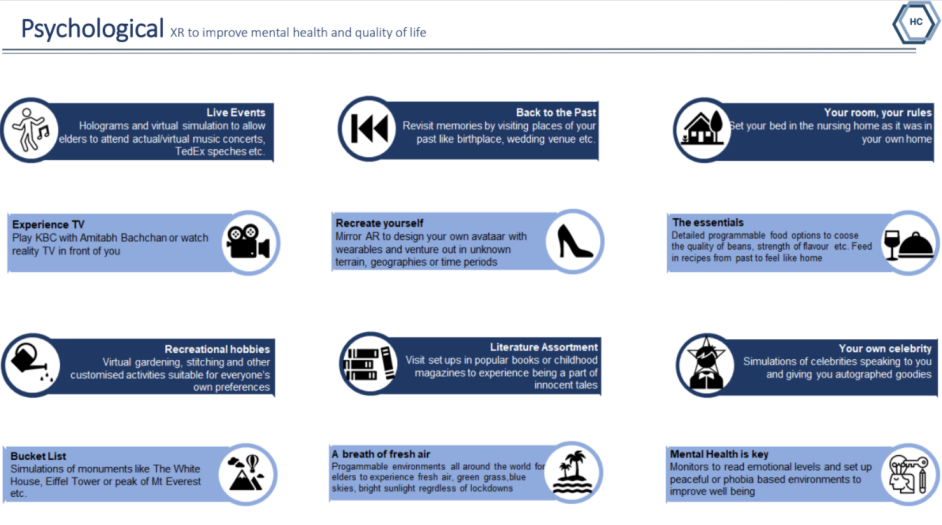 XR enables older adults to distract themselves from unpleasant experiences by introducing pleasant sensory experiences. GMetriXR is the perfect metaverse platform to create such experiences loaded with features. Start the journey today, you can request a callback here.
You can read more about VR on the Virtual Reality Blog like organizing Virtual Job Fair, Virtual Reality Shopping and more.